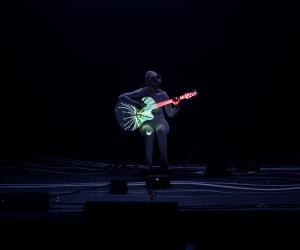 Known as the highlight of the creative calendar, Design Indaba's flagship event has evolved into so much more than a conference.
More than a talk shop, it's an immersive experience that includes not only a series of design talks by creative industry heavyweights, but also live music, performance and theatre, fashion shows, product launches, dance, and surprise appearances by creative industry leaders.
Confront the world's leading design ideas and discover the creative currency that is leading the way in innovation.
A better world cannot be achieved without creativity. The Design Indaba Conference installs the world's most radical minds as your guides.
Design Indaba 2018 FAQs in Brief
When are tickets going on sale?
Conference tickets go on sale on 1 November 2017.
Where do I buy tickets?
Tickets are sold via webtickets – the link will be uploaded on the 01 November 2017
What time does the first session start?
The first event usually begins at 9am, but please refer to the schedule once it's released.
Can I get points if I'm an architect or an interior designer?
All professional/registered architects can claim CPD points for Design Indaba Conference under category 3. Architects can do this by completing and submitting a form, which can be downloaded from the website of the institute with which they are registered. Related documentation as per the downloaded form must accompany the submission. The event organisers (in this case, Design Indaba) only have to supply applicants with the event programme, an invoice and attendance verification. Please find more information here. Please note that all persons registered by SACAP will be eligible to claim points.
When will the conference programme & speaker list be released?
Speakers will be announced from 1 December 2017, but the final programme and daily schedule will only be released one week before the event.
Where is the Conference taking place?
The Design Indaba Conference and Festival will be held at The Artscape Theatre Centre in Cape Town.
Where are the Simulcasts taking place?
Simulcasts will take place in Cape Town, Johannesburg. One or more other African cities will also be hosting simulcasts. Venues to be confirmed.
Will there be an Expo?
The last Design Indaba Expo was held in 2015. Designers interested in showcasing their work through Design Indaba can sign up to our Designer Directory or enter for the next Emerging Creatives programme.
Where do I park?
NO public parking will be available at the back on conference days.
The MyCiti bus route runs straight to the Civic Centre, which is right next to the Artscape, and is a cheap, reliable alternative to other travel options.
In order to increase accessibility to Design Indaba Conference, the Design Indaba Simulcast caters to emerging designers, students and young professionals by offering a live broadcast from the main plenary session to various venues around Southern Africa, at a reduced rate, including Cape Town, Johannesburg and other cities.
This intervention is in keeping with the Design Indaba philosophy of accessibility, as we strongly believe that the more people exposed to innovative, creative, out-of-the-box thinking, the more significant the impact of creativity and design to the economy. Design Indaba's Simulcast is a not-to-be-missed opportunity to experience the magic of the main Design Indaba Conference through a live broadcast to a second auditorium in Cape Town and additional venues in other cities.
Conference 2018 rates

Individual ticket prices

Full Indaba

(three-day ticket)

R8 300.00

One-day ticket
R3 220.00
Two-day ticket
R6 440.00

Premium

Directory discount (5%)
R7 880.00
*Early Bird (10%)
R7 470.00
Alumni*/Academic*** discount (15%)
R7 050.00

Group bookings

Group (5-10) discount (5%)
R7 880.00
Group (11-25) discount (10%)
R7 470.00
Group (26-plus) discount (15%)
R7 050.00
Simulcast 2018 rates

Cape Town

Simulcast: Normal ticket
R1 680.00
Simulcast: Student

ticket**
R1 520.00

Johannesburg & other cities

Simulcast

: Normal

full

ticket
R1 080.00

Simulcast

: Student full ticket**

R 975.00

Simulcast

: Student Group full ticket** (groups of 20+)
R 920.00

Simulcast: One-day ticket

R 400.00
*Alumni discount is applicable to delegates who have attended two or more Design Indaba Conferences, excluding the Design Indaba Simulcast.
**Student discount for individual or group tickets is only applicable if the attendee is registered with a valid tertiary education institution. Proof of affiliation will be required upon event registration (see more in FAQs).
***Academic discount is only applicable if the attendee is registered as an employee with a valid tertiary education institution. Proof of affiliation will be required upon event registration (see more in FAQs)
Early Bird discounts are only applicable from 1 November to 10 December 2017. Alumni, Academic & Designer Directory discounts will be available until Conference ticket sales close or sell out. Tickets are subject to limited availability on a first come, first served basis. Once they sell out, standard rates apply.
From industry legends to global graduates, our speaker lineup is a smorgasbord of the world's leading creatives. We'll keep releasing names until the Conference kicks off on 21 February.
Alexander Groves and Azusa Murakami of Studio SWINE
More About Design Indaba Conference 2018
Pages